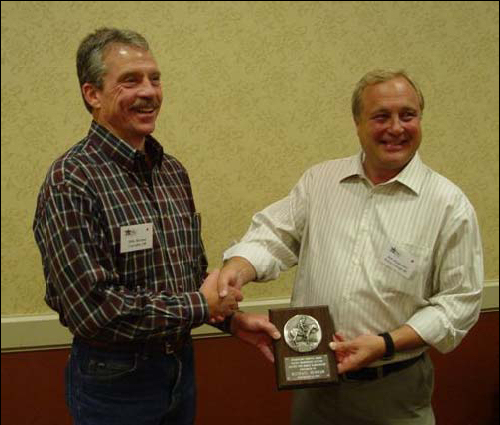 Michael (Mike to most of us), a "go-to-guy" for all things range management, is known for excellent programs and follow-through in the short courses he leads across Oregon and western North America. He has been OSU Extension Rangelands Specialist since '94, but earlier worked on rangelands of Idaho and Nevada, was an ecologist with National Biological Survey, an advisor in northern Africa and a Peace Corp volunteer in Majuro, Marshall Islands. Michael has been recognized by BLM and SRM.
Most recently, PNW Section knows Michael as the Local Arrangements Chair for Vancouver '06. He made huge logistic decisions and he put many to work as volunteers! Does he know how to motivate folks? You bet. He did it to about 150 of us and just look what was accomplished!
Michael Borman represents the pride in PNW Section SRM, and the confidence in self that is hallmark to our Section.