Have you heard something like this before? "Hi Ben and Cindy, will you be at La Grande this spring? I have a few things I want to go over with you." Or, "John and Lynne, how are things going with your Juniper project? Will you be at the meeting in Bend? I would sure like to see your project sometime." How about "Chad, will we be seeing you in the summer in Beautiful Downtown Burns?" Or "Andrea, I know a student I would like to encourage to attend …, will you be at the next meeting in June?" "Tom and Kathy, did you escape the fires we're hearing about around Wenatchee? Will we be seeing you at Williams Lake?" Or how about "Bill Kreuger / Mike Borman, what the heck is going on at OSU?"
These are the kinds of greetings commonly spoken by Alf Bawtree and heard by many of the folks in our group. These messages are the beating drums, the clarion call to the next meeting of the clan. These are the thoughts that drive interest, excitement and the anticipation of seeing each other at the next gathering. Sadly, Alf won't be present at the next meeting of our clan.
Alfred H. Bawtree passed away on December 21, 2018 at 88 years of age. Following a stroke a few days earlier, Alf never regained consciousness and died in the hospital in Kamloops. Alf was predeceased by his wife Kay a number of years ago and is survived by their sons Hugh and Bruce Bawtree. Alf was a colleague, mentor and friend to many in SRM, particularly those in the PNW section.
In spirit and in our memories, Alf will certainly be at the next meeting. "Is that Alf up there near the front and off to the side?" Alf is listening carefully, following the discussion and getting ready to ask a pointed question. Those questions, sometimes with a sharp point, would often bringing in a new perspective, or perhaps express an idea dared to be verbalized by only the brave! Alf was never afraid to speak out. Or "is that Alf at the back of the crowd, engaged with an old friend or talking to a rancher or a student" (two of the kinds of people Alf loved the most, finding out about them and learning their stories and their points of view). Or "is Alf in Room 99 —- or at the kitchen table, or at the back of the hall"? With welcome doors open wide to all, Alf is hoping to visit with people young or old, new or familiar. A chance to say hello, learn new things, explore new concepts and ideas, or even just to laugh, banter, tease and talk old times.
Alf was a leader and a follower, a trailblazer and a trail boss; leading from the front, poking from the side and pushing at the tail end of the herd. He showed the way and kept things moving. Alf was awarded the PNW Section Trail Boss Award in 1992.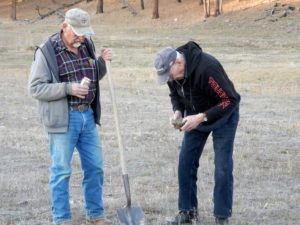 Alf was an outstanding achiever, accumulating a long list of exceptional accomplishments spanning his lifetime career in rangelands. Although primarily focused in his own region Alf's achievements were recognized by the Society for Range Management Outstanding Achievement Award presented to Alf in 2003. Alf was heavily involved and completely committed to rangelands; the science, the practice, the art and the enjoyment thereof.
Throughout his life, Alf was heavily engaged in our Society's focus on the rangeland landscape. His interest started as a child on a family farm at Ashton Creek near Enderby British Columbia during the 1930's, it continued through University in the Faculty of Agricultural at the University of British Columbia, persisted throughout his professional career in range management beginning in the 1950's, and continued during his retirement years (as recently as October, 2018 Alf was on a field trip to the East Kootenay with Bob France. Alf met with ranchers and range professionals in the region to discuss some difficult decisions around rejuvenating rangeland seedings). Alf was recognized as being "In for the Long Haul" by the PNW Section in 2012 with receipt of the Jim Brunner award.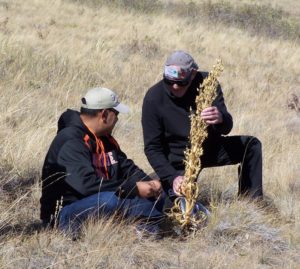 Alf was a strong supporter of young people in range and one of his passions was the W. H. Stewart fund which provides awards to students in the Resource Management program at Thompson Rivers University in Kamloops. This fund was established after the untimely death of Bill Stewart a Kamloops area rancher and first president of the BC Chapter of SRM. Alf worked closely with Bill's widow and the Kamloops Stockmen's Association to ensure the fund was carefully awarded and grew. He was always proud to represent SRM during the Awards Presentations at TRU each fall. He attended the most recent ceremony on November 29th, 2018.
Alf took the view that the reservoir of the unknown far exceeds the pool of known facts. The following example demonstrates this trait. Alf was a long-standing member of a local naturalist organization. The following quote (recorded in the minutes of one of the association meetings) demonstrates Alf's determination to be a very clear and persuasive in his instructions: "We don't know much. We have to be damn cautious about what we do and look carefully at the impact our actions are having." Alf often engaged with people in discussions by way of carefully thought out questions.
No discussion about Alf could be considered complete, or even credible, without mention of a few stories and the recognition of the odd minor shortcoming; after all, we all have our foibles! Opening up the topic to these two items could result in at least a dozen pages, possibly a book! Just to get peoples' minds in the mood, how about the time Alf was seen (and heard), panic-stricken, as he flailed and rowed his boat toward shore on the fishing trip with several of our SRM members in Southern B.C. Alf had forgotten to put the plug in the bottom of the aluminum rowboat and didn't realize his mistake until he felt his foot getting wet, by that time well out into the lake. By the way, that might have been about the year the rig from OSU lost its license plate somewhere on the trip and didn't notice the loss until crossing the border back into the USA (unrelated instances I am sure).
We all know that a good character trait can often manifest into a negative asset. For example, a long memory can be a boon or a bane. Or a stubborn streak can be very annoying or a huge asset in getting the job done. Here is an example where combining these two traits with opposing outcomes achieve a "grand slam". I recall a frustrated colleague remarking that "Alf has a stubborn streak broader than a Percheron mare's backside", while another colleague remarked, "yes, but despite that, he had never known Alf to hold a grudge much longer than a couple of decades or so"!
We hate to drop a good roast at such an early stage in the cooking, but keep thinking about the stories. This "should be continued", maybe at the next meeting of the clan.
Prepared by Bob France and Mike Malmberg, January, 2019
Cards may be sent to  Alf's son: Bruce Bawtree, 6069 Pringle Rd., Kamloops BC V2C 5V4