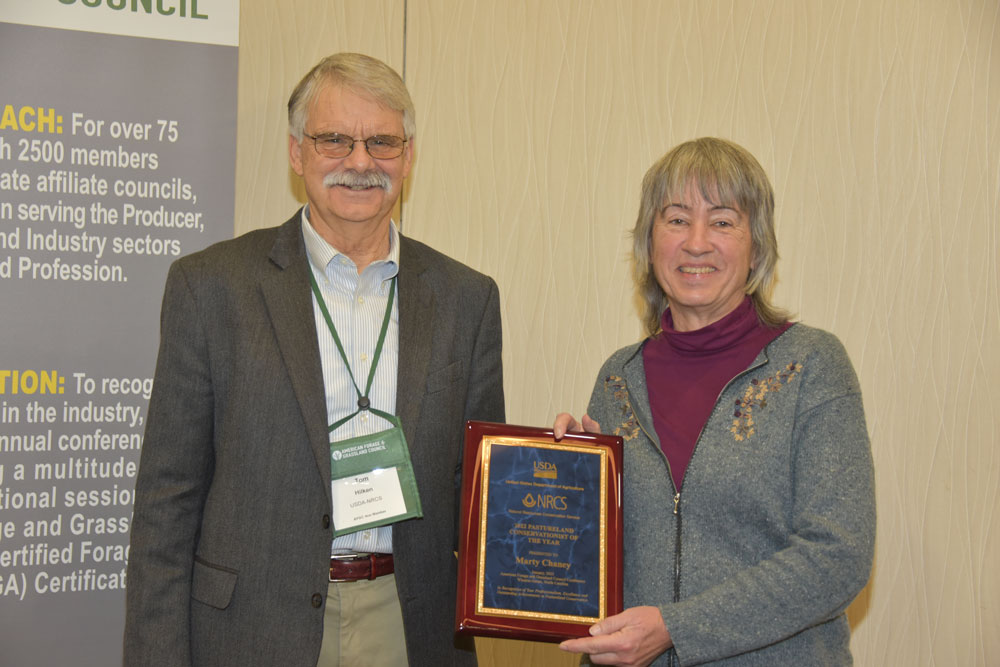 By Adrian Melendez
NRCS-WA Public Affairs
SPOKANE VALLEY, Wash. – Marty Chaney, NRCS-WA Pasture Management Specialist in Olympia, was presented with the National Pastureland Conservationist Award at the American Forage and Grassland Council conference in Winston-Salem, N.C., Jan. 9-11.
Marty was recognized for her decades of federal service and dedication to pastureland conservation.
"Marty, sometimes known as 'Mother Prairie' or 'The Grass Whisperer,' is a well-known leader, expert, and respected pastureland specialist in Washington State," said Tom Hilken, NRCS National Grazing Specialist, in a speech during the award presentation.
"Throughout her more than 38-year Federal career, she has profoundly contributed to promoting and accelerating pastureland conservation and has spent countless hours training and providing technical assistance to NRCS staff, partners, and clients in grassland conservation, forage production, and endangered species conservation throughout the Pacific Northwest region," Tom continued.
Marty said she was honored to receive the award and for the recognition of her work.
"It's nice to know that colleagues appreciate and value my work," she said.
Marty attributes her success in her field through her strong interest and passion in working with landowners and colleagues in order to assist them in understanding grassland ecology and management.
She added that the keys to success is to make sure you are interested in what you are doing, and listen to the needs of the landowners you are working with.
"Follow your interests, and always listen to your customers to make sure you really understand their goals and objectives. That way, both the needs of the customer and the requirements of the Agency are met," Marty said.